Business TV
Comcast Business TV for as low as $9.95/mo.*
For offices, lobbies, waiting and break rooms
Live streaming at your business
Plans for every business, every budget
Available 24/7
Included with television services

Streaming
Get live TV on any device with Xfinity Stream for business customers.

Affordable cost
Plus, save when you bundle with Internet or Phone for business.
24/7 customer service
Call any time, day or night.
Call Now
888-611-0740
Beyond Traditional TV
Defy your customers' expectations with top TV channels, live sports, local news, children's shows, and so much more.
On every device. Especially yours.
Private Viewing TV
For offices, lobbies, waiting rooms, and break rooms.
Set a welcoming tone for your business. Visitors, customers, and employees can keep up with current events while they pass the time.
Live streaming with Xfinity Stream for business customers now available.*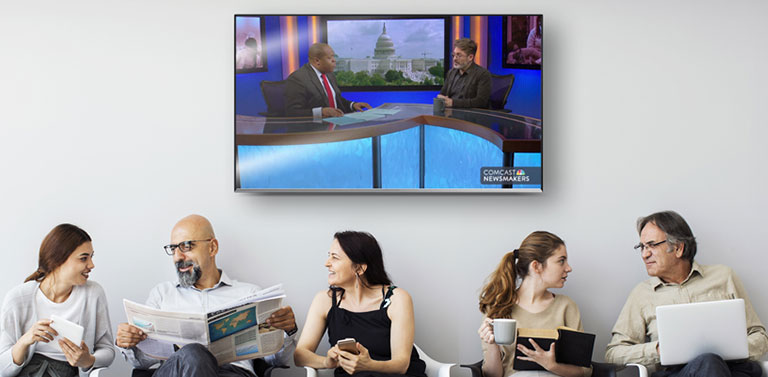 Public Viewing TV
For bars, restaurants, fitness centers, and retail shops.
Whether your customers come to socialize, exercise, or accessorize, we've got entertainment in the Comcast Business channel lineup to keep them energized.
Why Comcast Business
Get Internet speeds up to 1 Gig, a variety of bundling options, plus:

No data caps
24/7
customer support
30-day money-back guarantee

Ask how to get free installation